Item #E300419 — Slip-On Calibration Unit
SLIP-ON CALIBRATION UNIT, WITH THREE (3) SPECIAL J VRP® 5 GALLON STAINLESS
STEEL PROVERS, AND THREE (3) 80 GALLON STAINLESS STEEL HOLDING TANKS
THE VRP® HAS A CAP MOUNTED ON ITS NECK THAT CREATES A
SEAL AROUND THE DISPENSER NOZZLE AS THE PROVER IS FILLED AND DRAINED
ALSO A VENT LINE IS FITTED FROM THE TOP OF THE PROVER TO THE PRODUCT
HOLDING TANK ON WHICH THE PROVER IS MOUNTED. THE NECK IS SEALED WITH
A FLAPPER AND BOOT TO PREVENT EVAPORATION AND RETAIN SATURATED AIR
DURING THE DRAIN-FILL CYCLE. THE VOLUME STANDARD, HOLDING TANK AND
VENT LINE CONFIGURATION IS SUCH THAT WHEN THE PROVER IS DRAINED, THE
AIR IN THE STORAGE TANK, WHICH IS SATURATED WITH GASOLINE VAPOR, IS
DRAWN THROUGH THE VENT LINE INTO THE PROVER, THEREBY MAINTAINING A
SATURATED ENVIRONMENT WITHIN THE PROVER.
Request More Information
Product Specifications
| | |
| --- | --- |
| 5 GALLON PROVER SPECIFICATIONS | |
| CONSTRUCTION | BUILT TO N.I.S.T. HANDBOOK 105-3 STANDARDS AND API MANUAL OF PETROLEUM MEASUREMENT STANDARDS CHAPTER 4 |
| CALIBRATION | FACTORY CALIBRATED USING STANDARDS TRACEABLE TO NATIONAL INSTITUTE OF STANDARDS AND TECHNOLOGY CALIBRATION FOR USE IN LEGAL METROLOGY IS REQUIRED |
| NOMINAL CAPACITY | 5 GALLON - CALIBRATED "TO DELIVER" AT 60 DEG F |
| MATERIAL | TYPE 304 STAINLESS STEEL |
| DRAIN VALVE | CENTER DRAIN, 2 INCH BUTTERFLY VALVE |
| DESIGN | REINFORCING BANDS TO PREVENT DISTORTION OF PROVER WHEN FULL WITH LIQUID AND WHEN BEING TRANSPORTED. |
| LEVEL | T TYPE LEVEL--ENABLES OPERATOR TO ENSURE PROVER IS LEVEL PRIOR TO TESTING. |
| SCALE RESOLUTION | 0.5 CUBIC INCHES |
| REQUIRED SCALE RANGE | ±15 CUBIC INCHES. THE GAUGE SCALE SHALL BE GRADUATED BOTH ABOVE AND BELOW THE NOMINAL CAPACITY GRADUATION BY AN AMOUNT NOT LESS THAN 1.5 % OF THE PROVER VOLUME |
| VENT | 1 INCH VENT LINE (SHOULD BE USED WITH 1 INCH VAPOR HOSE) |
| EVAPORATION CONTROL | CAP WITH CHAIN ON A SEALED NECK WITH FLAPPER AND BOOT TO PREVENT EVAPORATION AND RETAIN SATURATED AIR DURING THE DRAIN CYCLE |
| TEMPERATURE MEASUREMENT | (1) STAINLESS STEEL THERMOMETER WELL LOCATED SO THAT THE CLOSED END IS AT THE APPROXIMATE CENTER OF THE PROVER. |
| DRAIN SIGHT GLASS | INSTALLED BETWEEN PROVER DRAIN VALVE AND LEVELING BALL JOINT TO ENSURE DRAIN TIME MEETS NIST (30 SECONDS AFTER MAIN FLOW CESSATION) DRAIN REQUIREMENTS. ALSO USED TO CHECK DRAIN VALVE FOR LEAKAGE. |
| LEVELING METHOD | COMPLETE STAINLESS STEEL LEVELING BALL JOINT. INCLUDES 10" STAINLESS STEEL FLANGE, BALL JOINT, RETAINING NUT AND HARDWARE WITH GASKET--ALLOWS EACH PROVER TO BE EASILY LEVELED BY SWIVELING ON ITS BALL JOINT AND SECURED IN PLACE |
| LOCKING DEVICE | EACH PROVER HAS A THREE PIECE STAINLESS STEEL LOCKING DEVICE TO STABILIZE THE PROVER DURING TRANSPORT, (INCLUDES A BRACKET ON THE PROVER, A BRACKET ON THE BALL JOINT AND A "U" FITTING TO CONNECT THE TWO BRACKETS AND SECURE THE PROVER.) |
| WRENCH | (1) WRENCH TO HELP REMOVE THE PROVERS FROM HOLDING TANKS. |
| HOLDING TANK SPECIFICATIONS | |
| HOLDING TANKS (3) | 80 GALLON STAINLESS STEEL STORAGE TANKS, ONE FOR EACH PROVER (TANKS ARE SLOPED AND CREASED TO PROVIDE COMPLETE DRAIN). ALL HARDWARE TO BE STAINLESS STEEL |
| LIQUID LEVEL INDICATOR | GIVES OPERATOR APPROXIMATE LIQUID LEVEL IN EACH HOLDING TANK |
| TANK DRAIN LINES | 2" STAINLESS STEEL PIPE DRAIN LINES CONNECTED INDIVIDUALLY TO EACH HOLDING TANK. QUICK CONNECT MALE COUPLING WITH CAP AND CHAIN. |
| TANK DRAIN VALVES | 2" BUTTERFLY VALVES (ALUMINUM HOUSING). |
| DRAIN HOSES | (2) 6 FT., 2" DIAMETER PETROLEUM DRAIN HOSES WITH QUICK CONNECT FITTINGS--FOR GRAVITY DRAINING OF HOLDING TANKS BACK TO THE STORAGE TANK WITH QUICK CONNECT ELBOW |
| DRAIN HOSE TUBES | (2) ALUMINUM DRAIN HOSE STORAGE TUBES, (4" DIAMETER EACH WITH A VENTED CAP ON ONE END, AND A HINGED, LOCKABLE ACCESS DOOR ON THE OTHER. ALL ALUMINUM CONSTRUCTION.) |
| SEALS AND ELASTOMERS | ALL TANK AND VALVE GASKETS ARE VITON, BALL JOINTS HAVE INTERNAL TEFLON SEALING BUSHINGS |
| GROUNDING REEL | 50 FT. ON RETRACTABLE REEL MADE OF GALVANIZED STEEL CABLE MOUNTED FOR DISSIPATION OF STATIC ELECTRICITY WITH COPPER ALLIGATOR CLAMP. JAWS OPEN TO 1.25 INCHES |
| MISC. ACCESSORIES | (1) S/S SPANNER WRENCH, (FOR TIGHTENING OR LOOSENING THE BALL JOINTS) (1) 18" ALUMINUM DROP TUBE, (TO ALLOW DRAIN HOSES TO EASILY FIT INTO BELOW GROUND STORAGE TANKS) |
| OPERATOR STEP | ALUMINUM GRIP STRUT STEP (REMOVABLE)--ENABLES OPERATOR TO COMFORTABLY AND SAFELY REACH TOP NECK OF PROVER WHEN TESTING. |
What's Included
STANDARD FEATURES
(3) 5 GALLON SPECIAL J PROVERS ON LEVELING BALL JOINTS
(3) 80 GALLON STORAGE TANKS
(2) 6′ FUEL DELIVERY HOSES
(2) LOCKABLE HOSE STORAGE TUBES
(1) REMOVABLE STEP
(1) SINGLE POINT DRAIN MANIFOLD
(1) GROUNDING REEL
OPTIONAL ITEMS
WORK PLATFORM HEAVY DUTY WORK PLATFORM (REMOVABLE ) FITS INTO HITCH AND FOLDS UP.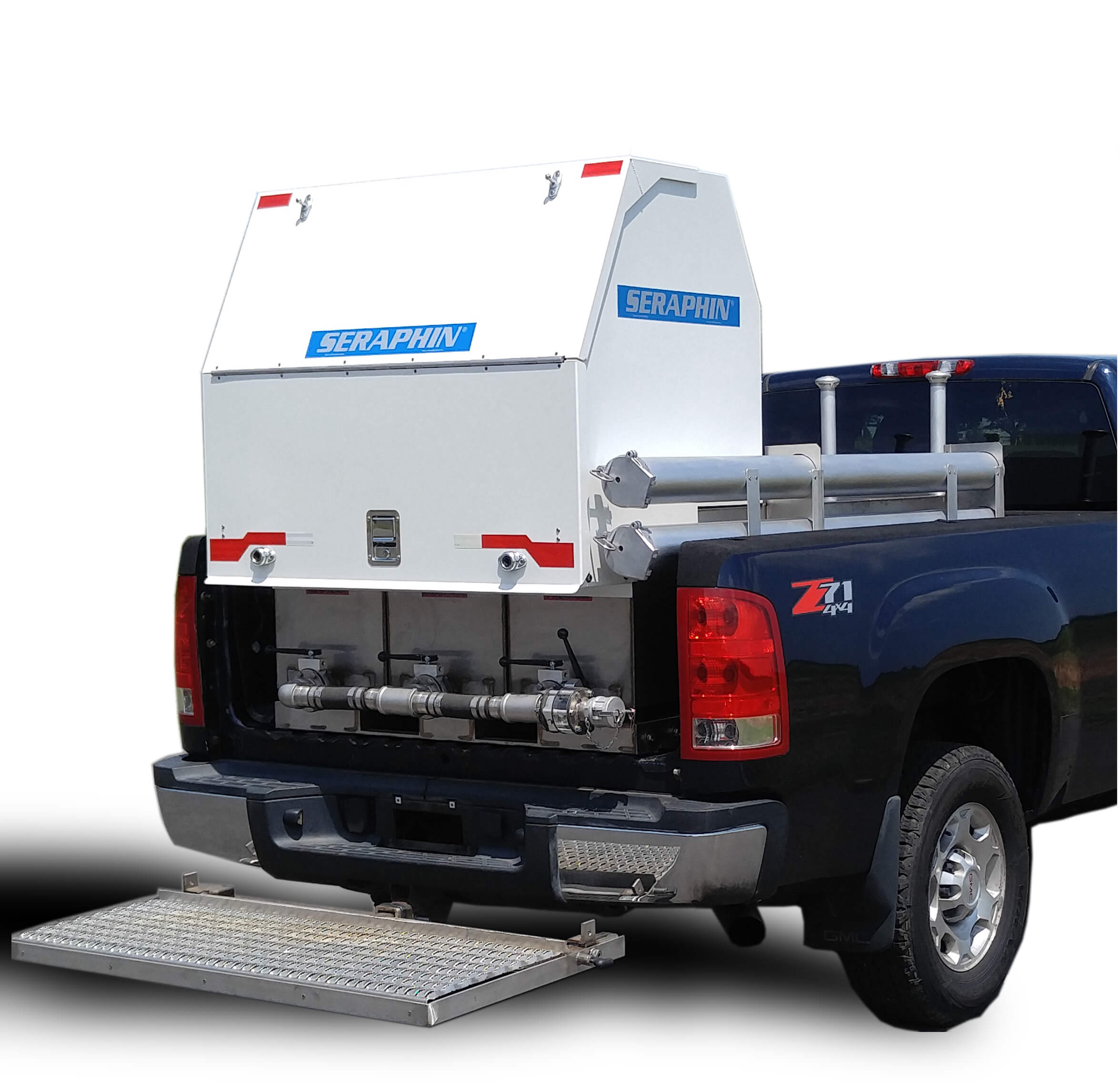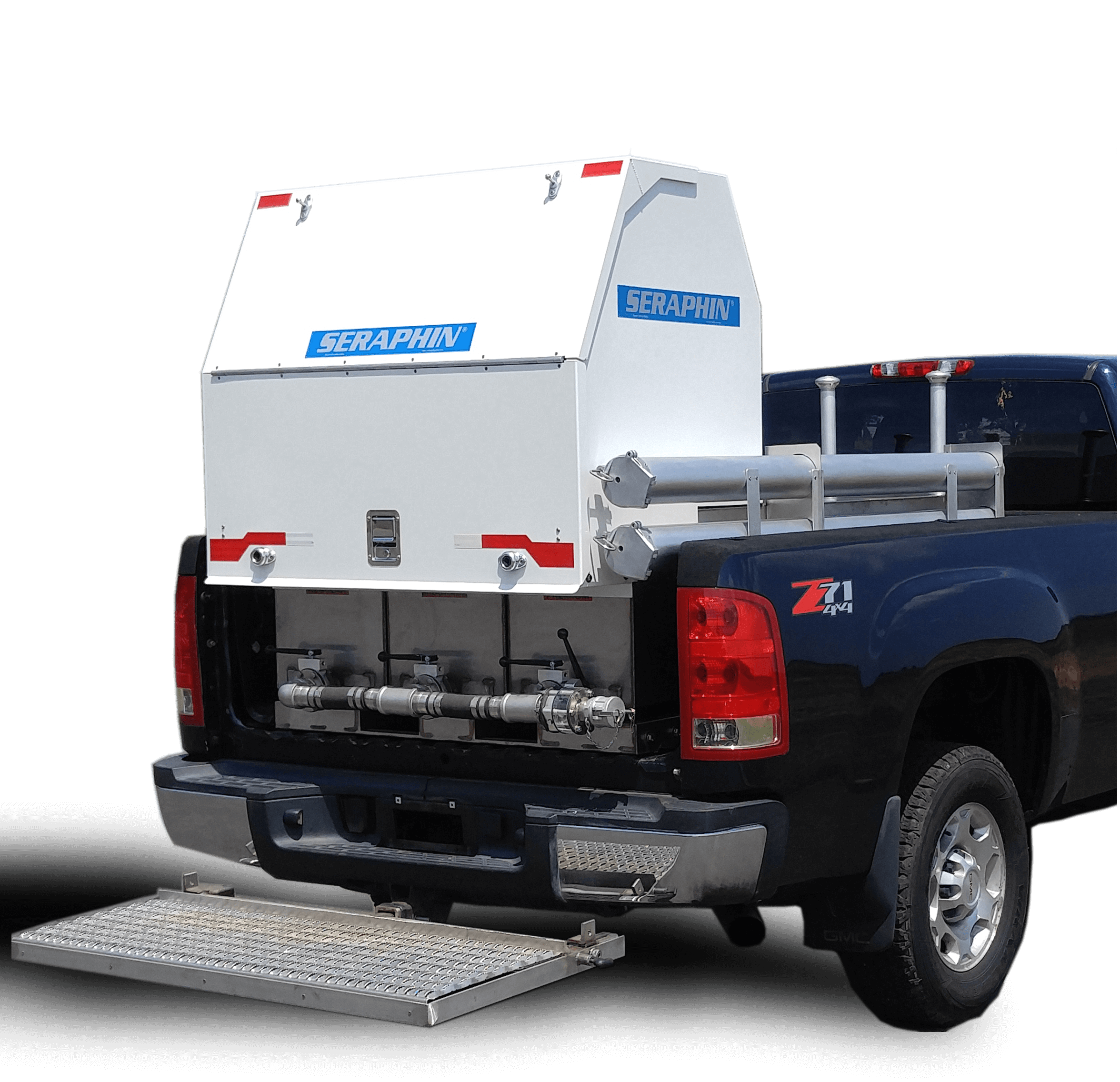 50 GALLON PROVER WITH SIDE STEP PLATFORM AND RAILING
60 GALLON PROVER WITH SIDE STEP PLATFORM AND RAILING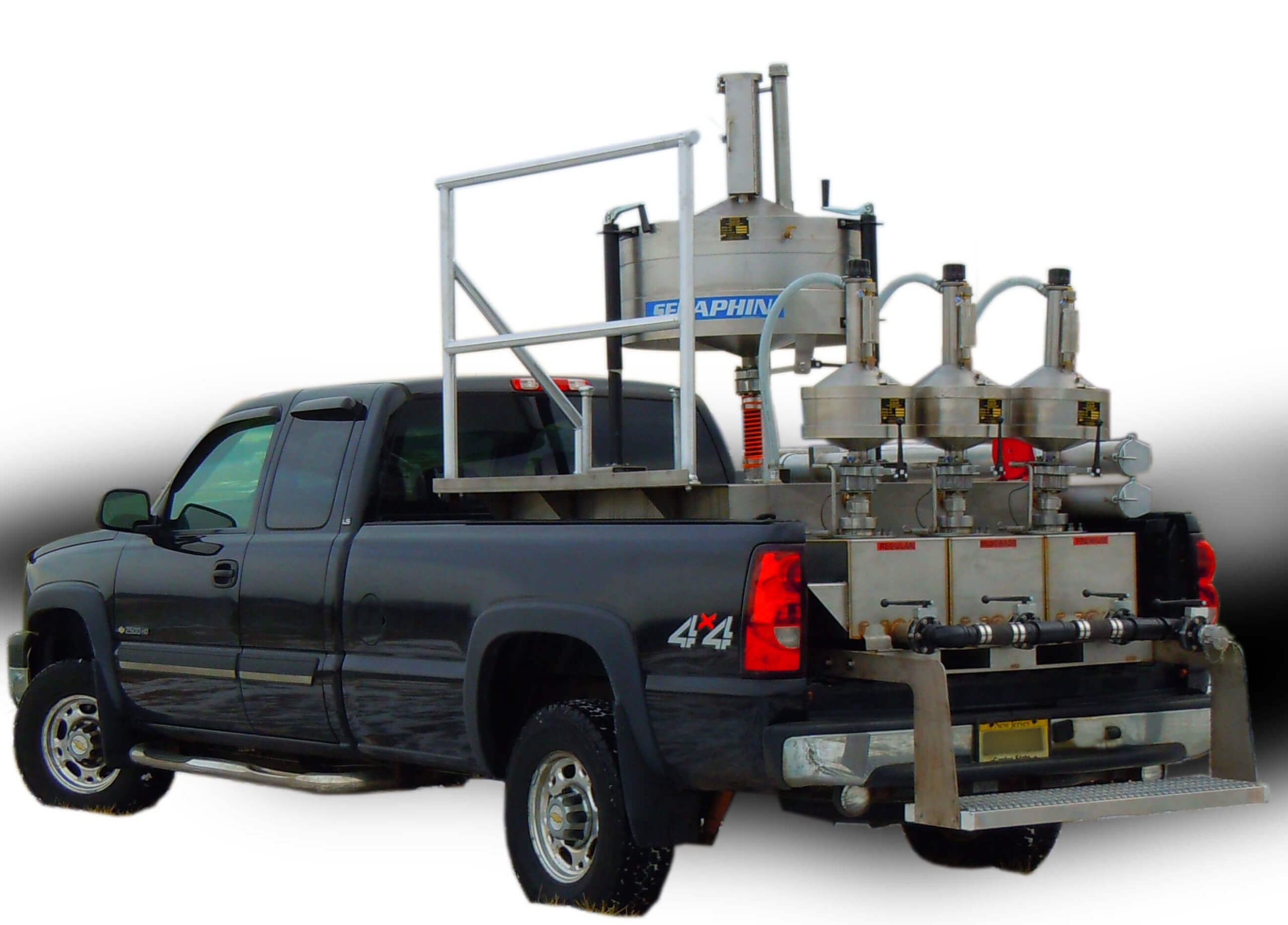 Video
South Carolina Weights and Measures
Using a Seraphin Slip On Unit to Check the Accuracy of Fuel Dispensers
Using a Seraphin Slip On Unit to Check the Accuracy of Fuel Dispensers
Using a Seraphin Slip On Unit to Check the Accuracy of Fuel Dispensers
Weights and Measures Inspection of a Retail Motor Fuel Device
Checking gas pumps for accuracy
Note: Minimum order amount of $75.00.