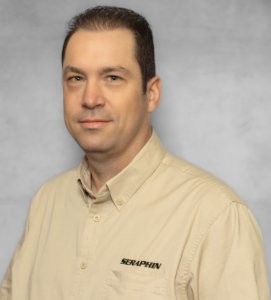 Ron Gibson
Sales Director
Consider all the ways to gauge the performance of a company: the quality of its products, the attentiveness of its service and reputation in the business community.
Following the guidelines set forth in the National Institute of Standards and Technology (NIST) Handbook 105-3, International Organization of Legal Metrology (OIML) R-120, Measurement Canada and in the American Petroleum Institute (API) Code 1101, our provers and associated equipment are approved for City, County, Local, State, Federal and Bureaus of Weights and Measures. We furnish equipment to the Branches of the U.S. Armed Forces, Chemical, Pharmaceutical, Beverage, Food, Petroleum and any industry associated with liquid volume as well as to International concerns.
Seraphin® offers calibration units manufactured of stainless steel, thus their life expectancy is virtually unlimited. The maintenance and repair costs are kept at a fraction of the cost of new units.
At Seraphin®, we are proud that our measures and provers are used to protect both the consumer and industry from both fraud and honest mistakes and provide mutual transfer equity related to liquid transactions.
Seraphin Test Measure
A Division of Pemberton Fabricators, Inc.
PO Box 227, 30 Indel Ave.
Rancocas, NJ 08073
609-267-0922
[javascript protected email address]